Related Media
Hubble Space Telescope over Earth
Caption:
The NASA/ESA Hubble Space Telescope orbiting Earth. This picture was taken by astronauts on board the space shuttle Columbia, right after the Servicing Mission 3B to the space telescope itself. The telescope has an opening that allows light in (seen here on the left). The light travels through the telescope optics to the cameras and spectrographs located in the bulge at the other end of the observatory (seen here on the right). Data from these instruments is then sent back to Earth using an antenna. The black rectangles on either side of the observatory are the solar panels that provide it with power.
Credit:
NASA/ESA
credit link
License:
CC-BY-4.0
Creative Comments Attribution 4.0 International (CC BY 4.0) icons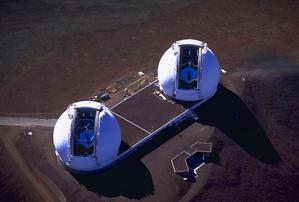 Keck Telescopes
Caption:
The two Keck telescopes on Mauna Kea on the island of Hawai`i. These two telescopes are reflecting telescopes with primary mirrors 10m across.
Credit:
NASA/JPL
credit link
License:
PD
Public Domain icons
---
---