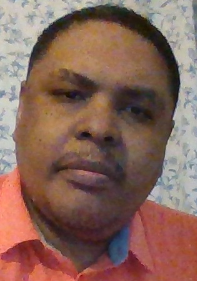 Dr Rulx Narcisse
Team Chair and Contact Person, NAEC team - Haiti
Société Haitienne d'Astronomie
rulx.rulxnarcisse.narcisse​
at
gmail.com
Born in Port-au-Prince, Haiti, on November 7, 1973, Dr Rulx Narcisse lives in Bon Repos, Haiti, with his wife & daughter. Retired OBGYN, he has been interested in astronomy since the passage of Comet Halley in 1986 when he was a teenager. He holds Expert Diploma in Astronomy, graduated from Bircham International University and founded the Haitian Astronomical Society (Société Haïtienne d'Astronomie) to promote the awareness of astronomy in his country. His team was able to participate in IAU NameExoworlds and obtained official recognition of names of Haitian origin for an exoplanet system.He then became the NOC & NAEC chair for Haiti.
Appointed as NAEC until: Aug. 1, 2024

Scynthia Domany
Team Member, NAEC team - Haiti
Club de Science et de Technologie
I am Scynthia Domany, I am a geologist, journalist, computer science student, I am responsible for the Science and Technology club in Haiti. I have the ability to work in a team and I love astronomy while hoping to do a master's degree on it. Thank you for having me !!
Appointed as NAEC until: Aug. 1, 2024
---
---