This page describes an image

Perseids 2020 over Dark Sky Park Poloniny, by Tomáš Slovinský, Slovakia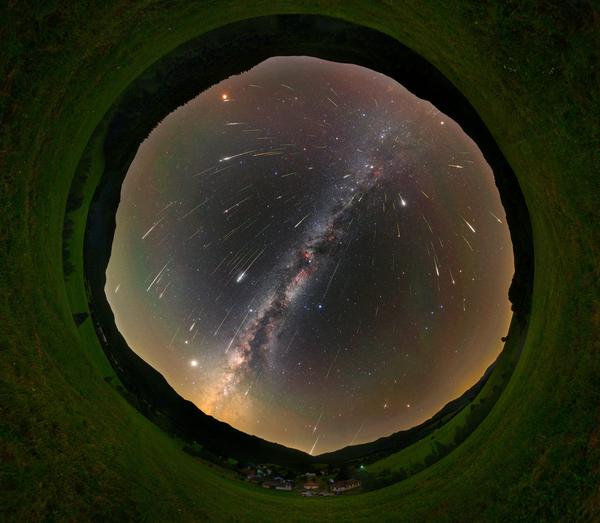 Download this file from Zenodo
( image 17.24 MB)
This file's record on Zenodo
Caption: Second place in the 2021 IAU OAE Astrophotography Contest, category Meteor showers.

A meteor shower occurs when the debris originated from comets or, on rare occasions, from asteroids enter the Earth's atmosphere at high speed, leaving behind beautiful tracks in the sky due to friction with the atmosphere. This all-sky image taken in Slovakia in 2020 shows the Perseid meteor shower in a vivid way so one can really see the Perseids appearing all over the sky. This meteor shower is named so because the radiant point (the point on the sky where the meteors misleadingly seem to originate from) of the Perseid meteor shower is located in the constellation Perseus. This is a very prolific meteor shower, and a very popular phenomenon that can be observed from mid-July until mid-August, when the peak of activity happens. This is associated with the comet 109P/Swift–Tuttle, as Earth's orbit around the Sun crosses the debris left behind by this comet. This kind of image is very useful for full dome projections in planetariums, beautifully showing the Milky Way, our home Galaxy.
Captions in other languages
Credit: Tomáš Slovinský/IAU OAE DOI: 10.5281/zenodo.5367399
Related glossary terms: Shooting Star Categories: Naked Eye Astronomy License: Creative Comments Attribution 4.0 International (CC BY 4.0) Creative Comments Attribution 4.0 International (CC BY 4.0) icons

Captions in Different Languages:
Italian
Caption:
Secondo posto al Concorso Astrofotografico IAU OAE 2021, categoria Piogge meteoriche.
Una pioggia di meteore si verifica quando i detriti originati da comete o, in rare occasioni, da asteroidi entrano nell'atmosfera terrestre ad alta velocità, lasciando dietro di sé bellissime tracce nel cielo a causa dell'attrito con l'atmosfera. Questa immagine a tutto cielo, scattata in Slovacchia nel 2020, mostra lo sciame meteorico delle Perseidi in modo vivido, in modo che si possano vedere davvero le Perseidi apparire ovunque nel cielo. Questa é definita una pioggia di meteore perché il punto radiante (il punto del cielo da cui le meteore sembrano provenire) della pioggia di meteore Perseidi si trova nella costellazione di Perseo. Si tratta di una pioggia di meteore molto prolifica e di un fenomeno molto popolare, che può essere osservato da metà luglio a metà agosto, quando si verifica il picco di attività. È associato alla cometa 109P/Swift-Tuttle, poiché l'orbita della Terra intorno al Sole attraversa i detriti lasciati da questa cometa. Questo tipo di immagine è molto utile per le proiezioni a tutta cupola nei planetari, in quanto mostra magnificamente la Via Lattea, la nostra galassia.
Credit:
Tomáš Slovinský/IAU OAE
Related glossary terms:
Shooting Star
Caption translation status:
Not yet approved by a reviewer
---