This page describes an image

Real Light Pollution Panorama, by Tomáš Slovinský, Slovakia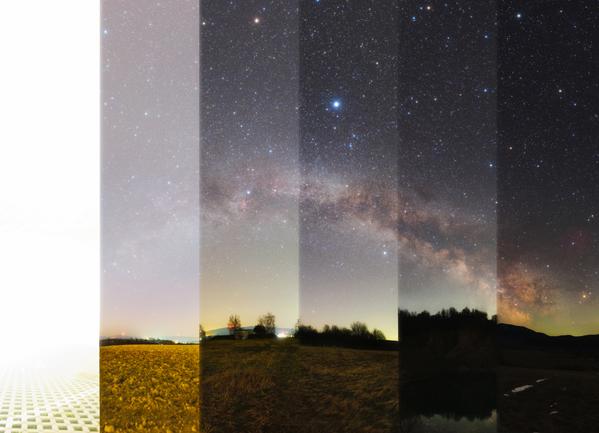 Download this file from Zenodo
( image 7.60 MB)
This file's record on Zenodo
Caption: Second place in the 2021 IAU OAE Astrophotography Contest, category Light pollution.

This composite image taken in Slovakia in 2020 illustrates the effect due to artificial illumination of light polluted areas. The higher the level of light pollution, the less we can observe in the sky, notice how the number of stars visible even to a sensitive digital camera decreases from right to left. Light pollution not only affects the visibility of objects in the night sky, but also significantly impacts ecosystems, negatively affecting many animals, such as migratory night birds, which may encounter difficulties to find the direction to where they should migrate to, or the sea turtles, which may be confused by the lights from coastal cities located near the beaches where they are supposed to spawn. Light pollution can also negatively impact some human health. Therefore, it is important to preserve the dark and quiet night sky for the benefit of the entire planet and all the diverse life it supports.
Captions in other languages
Credit: Tomáš Slovinský/IAU OAE DOI: 10.5281/zenodo.5366334
Related glossary terms: Light Pollution Categories: Naked Eye Astronomy License: Creative Comments Attribution 4.0 International (CC BY 4.0) Creative Comments Attribution 4.0 International (CC BY 4.0) icons

Captions in Different Languages:
Italian
Caption:
Secondo posto al concorso di astrofotografia IAU OAE 2021, categoria Inquinamento luminoso.
Questa immagine composita, scattata in Slovacchia nel 2020, illustra l'effetto dovuto all'illuminazione artificiale delle aree inquinate dalla luce. Maggiore è il livello di inquinamento luminoso, minore è la quantità di stelle che possiamo osservare nel cielo; si noti come il numero di stelle visibili anche a una sensibile fotocamera digitale diminuisca da destra a sinistra. L'inquinamento luminoso non solo influisce sulla visibilità degli oggetti nel cielo notturno, ma ha anche un impatto significativo sugli ecosistemi, influenzando negativamente molti animali, come gli uccelli notturni migratori, che possono incontrare difficoltà nel trovare la direzione verso cui migrare, o le tartarughe marine, che possono essere confuse dalle luci delle città costiere situate vicino alle spiagge dove dovrebbero deporre le uova. L'inquinamento luminoso può anche avere un impatto negativo sulla salute umana. È quindi importante preservare un cielo notturno buio e silenzioso per il bene dell'intero pianeta e di tutte le diverse forme di vita che sostiene.
Credit:
Tomáš Slovinský/IAU OAE
Related glossary terms:
Light Pollution
Caption translation status:
Not yet approved by a reviewer
---
---