This page describes an image

Stars in globular clusters near the heart of the Milky Way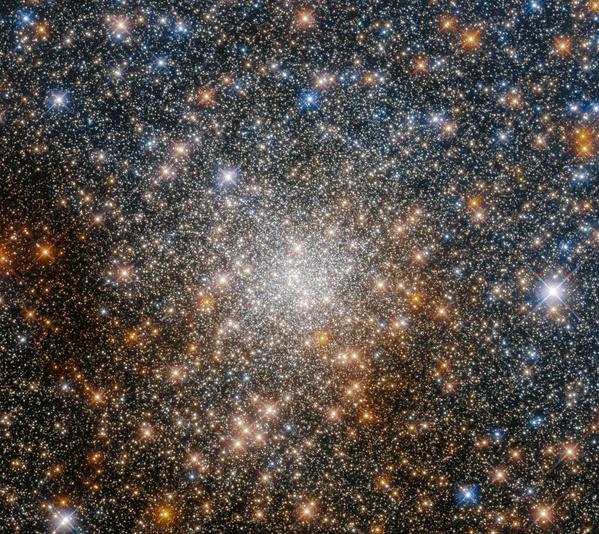 Download File
( image 403.47 kB)
Caption: This Hubble Space Telescope image presents a view of the interiors of the densely packed globular cluster Terzan 9 which consists of millions of stars located close to the heart of our Milky Way galaxy. This globular cluster sits within the central galatic bulge amidst interstellar dust, which obscures light from these star clusters. This image is a combination of light seen in the visible and infrared parts of the electromagnetic spectrum. Multi-wavelength imaging of the color and brightness of stars helps determine their age and in turn age of the parent star cluster.
Captions in other languages
Credit: ESA/Hubble & NASA, R. Cohen Credit Link Related glossary terms: Globular Cluster , Star cluster Categories: Stars License: Public Domain Public Domain icons

Captions in Different Languages:
Italian
Caption:
Questa immagine del telescopio spaziale Hubble presenta uno scorcio dell'interno dell'ammasso globulare Terzan 9, composto da milioni di stelle e situato vicino al cuore della nostra Via Lattea. Questo ammasso globulare si trova all'interno del rigonfiamento galattico centrale in mezzo alla polvere interstellare, che oscura la luce di questi ammassi di stelle. Questa immagine è una combinazione di luce nelle bande visibile e infrarossa dello spettro elettromagnetico. La rappresentazione a lunghezze d'onda multiple del colore e della luminosità delle stelle contribuisce a stabilire la loro età e, di conseguenza, l'età dell'ammasso stellare madre.
Credit:
ESA/Hubble & NASA, R. Cohen
Related glossary terms:
Ammasso di stelle
,
Ammasso globulare
Caption translation status:
Approved by a reviewer
---
---