This page describes an image

Solar flare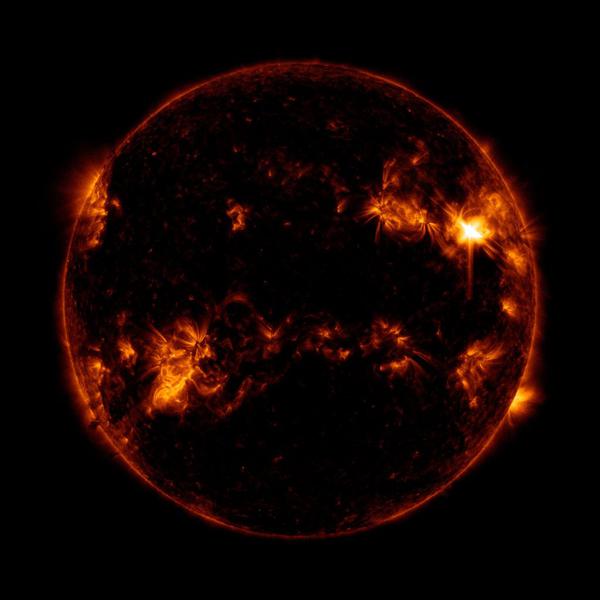 Download File
( image 83.14 kB)
Caption: This image shows the mid-level solar flare that was observed in March 2022 by the Solar Dynamic Observatory (SDO). The SDO observes the Sun activity, hence it shows the regions on the Sun where there is activity. A solar flare is brief brightening on the sun's surface, this particular flare is an M-class, which means that it is a tenth of the size of the most intense flares, namely the X-flares. Solar flares are barely visible with the naked eye, thus the SDO. The image here, is captured in extreme ultravoilet light that was colourized by red in the SDO, the flare appears in the upper of the solar disk.
Captions in other languages
Credit: NASA/SDO Credit Link Related glossary terms: Solar Flare , stellar activity , Sun Categories: The Sun License: Public Domain Public Domain icons

Captions in Different Languages:
Italian
Caption:
Questa immagine mostra il brillamento solare di medio livello osservato nel marzo 2022 dal Solar Dynamic Observatory (SDO). L'SDO osserva l'attività del Sole, perciò mostra le regioni del Sole in cui c'è attività. Un brillamento solare è un rapido lampo sulla superficie del Sole; questo brillamento in particolare è di classe M, il che significa che è un decimo delle dimensioni dei brillamenti più intensi, ovvero i brillamenti X. I brillamenti solari sono a malapena visibili a occhio nudo, quindi usiamo l'SDO per osservarli. L'immagine qui riportata, catturata in luce ultravioletta estrema che è stata colorata di rosso nell'SDO, il brillamento appare nella parte superiore del disco solare.
Credit:
NASA/SDO
Related glossary terms:
Solar Flare
,
Sole
,
stellar activity
Caption translation status:
Approved by a reviewer
---
---