This page describes an image

Sunspots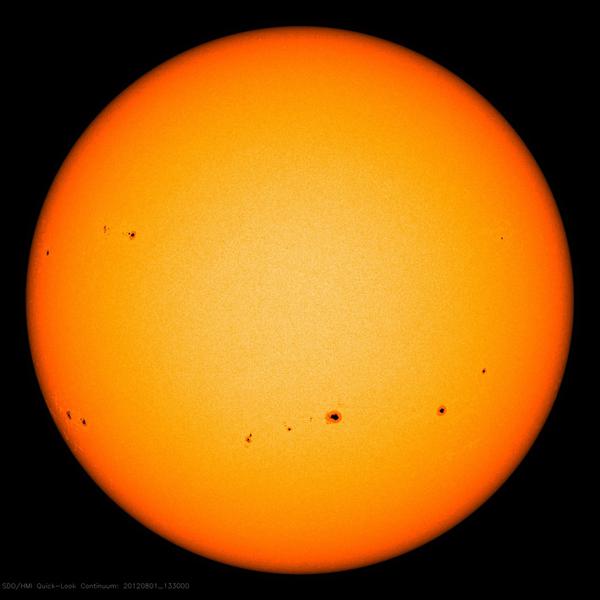 Download File
( image 153.32 kB)
Caption: In this image the sun peppered with groups of sunspots over almost nine days between July and August 2012. The sunspots seen in this image have been sources of the solar flares and coronal mass ejections (CME). In this image particulary, the sun is approaching solar maximum in its cycle (solar cycle), where we see many spots forming along the suns' equator. These sunspots and activity are seen in the southern hemisphere, before then most of the activity was on the northern hemisphere.
Captions in other languages
Credit: NASA/SDO/HMI Credit Link Related glossary terms: stellar activity , Sun , Sunspot Categories: The Sun License: Public Domain Public Domain icons

Captions in Different Languages:
Italian
Caption:
In questa immagine il Sole è stato punteggiato da gruppi di macchie solari per quasi nove giorni tra luglio e agosto 2012. Le macchie solari osservate in questa immagine sono state fonte di brillamenti solari ed espulsioni di massa coronale (CME). In questa immagine, in particolare, il Sole si sta avvicinando al massimo solare del suo ciclo (ciclo solare), dove vediamo formarsi molte macchie lungo l'equatore del Sole. Queste macchie solari e l'attività sono visibili nell'emisfero meridionale, mentre prima la maggior parte dell'attività aveva luogo nell'emisfero settentrionale.
Credit:
NASA/SDO/HMI
Related glossary terms:
Sole
,
stellar activity
,
Sunspot
Caption translation status:
Approved by a reviewer
---
---